[Blog] Covid-19 Impact Report May 1-5th
Positive Outlook from May 1-5 Call, Lead, Rental and Payment TrendsAs another month comes to a close, we took a deep dive into COVID-19's impact on call, lead, and collection performance for the first week of May. We measured year-over-year (Y-O-Y) and month-over-month (M-O-M) metrics from thousands of facilities to capture the operational effect on the self-storage industry.
Review the data below or watch CallPotential CEO and President Phil Murphy interpret the data in our latest Fireside Chat.
Impact on Call Performance
---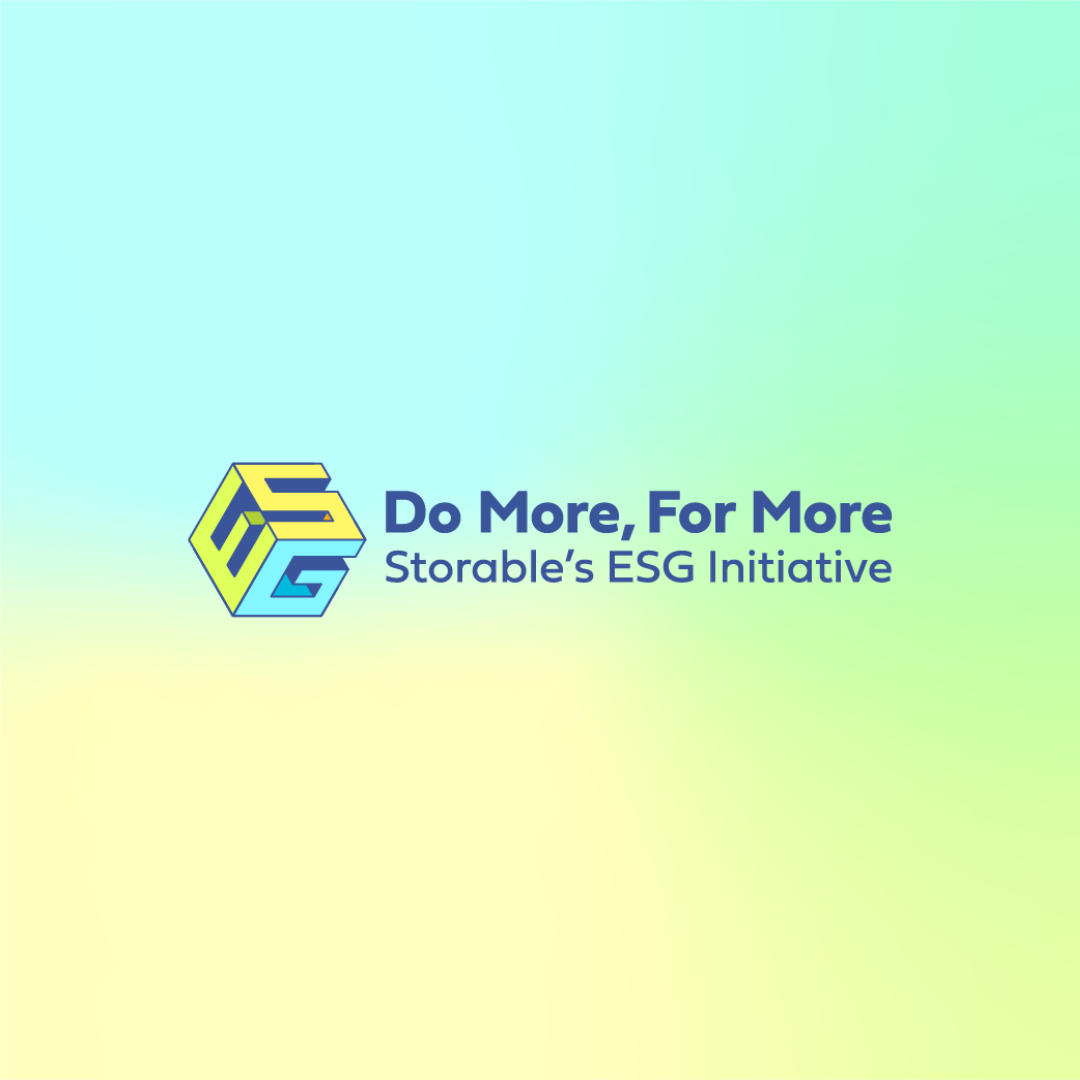 Early signs of call recovery are shown throughout the first week of May.
We initially saw a year-over-year drop in April's total call volume, however the start of May has shown promising signs of stabilization. Within the first 5 days, our metrics reveal a 12% call increase compared to 2019, and a flattened call volume when compared to April 2020. Although less leads have been an effect of COVID-19, we've found that outbound calls have dropped significantly due to operational changes. More facilities are tapering back on calls for collection reminders and lead follow-ups and leaning on automated systems to maximize efficiency, enhance their customer experience, and optimize their sales cycle through multiple touch points.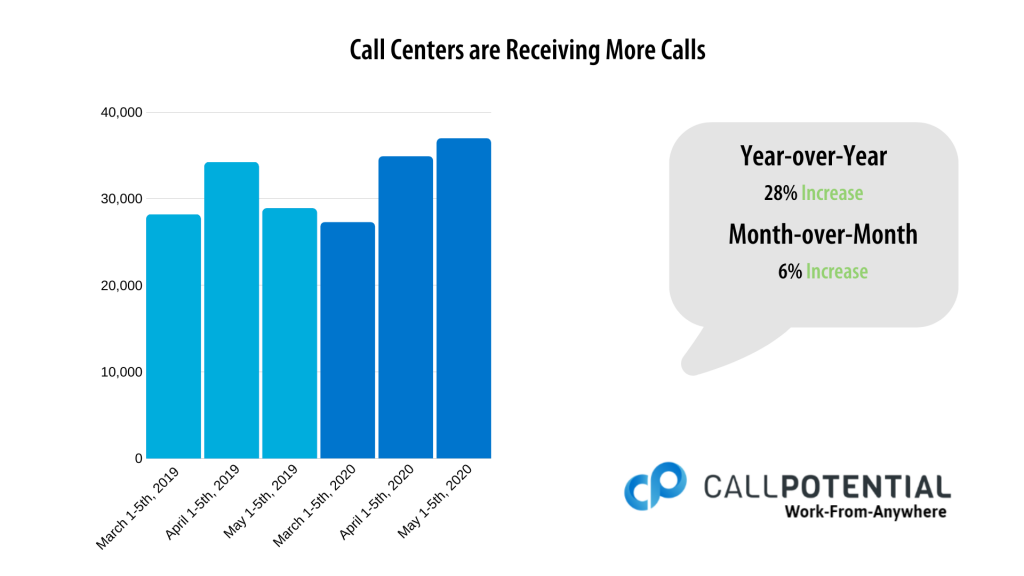 Facilities are becoming more dependent on call centers.
As social distancing and government-mandated rules continue to affect operations, there has been an increase in call volume reaching call centers. Call centers (encompassing of third party call centers and/or internal call centers (often using CallPotential Contact Center) saw a 28% increase Y-O-Y and a 6% increase M-O-M. To little surprise, we have seen a 60% growth Y-O-Y in the number of agents to handle the increased call volume as procedures like lead inquiry and lease signing are being handled over the phone.
Impact on Lead Acquisition and Conversion
---
Positive effects as nation adapts to the new normal
Although we're still facing lead acquisition challenges amidst the pandemic, seeing a 42% fall from March to April, May is showing encouraging signs as prospects adapt to the "new normal." We saw a rebound in new leads with an improved 40% lead increase from April to May.

Rentals had experienced a similar decline in the first week of April, cutting almost in half compared to March numbers. The first week of May shows an improved 52% which accounts for about half the losses from the previous month, proving managers are optimizing every opportunity.
Impact on Collections
---
Contact-free payment solutions allow clients more flexibility and accessibility.
We've seen steady growth in the number of facilities using contactless payment solutions, with the largest being text messaging growing 20% compared to April and 83% Y-O-Y. Even before COVID-19 we saw a rise in text, email, and phone payment methods as facilities push to stay ahead of the economic downturn.
With the option to tailor the tone and frequency of payment reminders, operators have changed their approach to collecting past-due rent. While still remaining diligent in using a combination of automation and manual tasks, the amount of messages have decreased, and the overall tone of the messages have been softened. Despite these changes, collections have remained strong.

An example of the messaging tone changes could be as follows; rather than a past-due text message template that might have previously read "URGENT: Your Rent is Now 45 Days Past Due. Please Pay Here." it might read more as "Friendly Reminder: Your Rent is Now 45 Days Past Due. Please Pay Here." Although a simple adjustment, leading with empathy during a pandemic can foster strong relationships with your tenants while maintaining an effective rent collection process with self-storage payment reminders.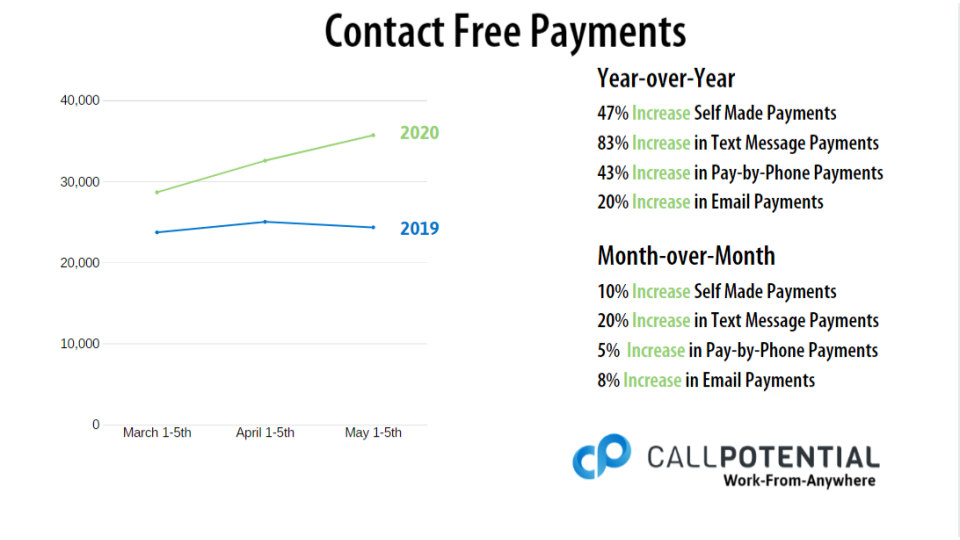 Automated reminders are keeping tenants on track.
Automated payment reminders continue to be heavily used throughout the crisis. From March to April we saw a 30% increase, continued by another 10% increase from April to May. With the chaos of stay at home orders, operators are opting for automated reminders and contactless payment methods to ensure tenants have every method available to make their payments while remaining top of mind during shutdowns. Automating reminders provides managers with additional time so they can focus on following up on leads as well spending extra time with customers in extenuating circumstances.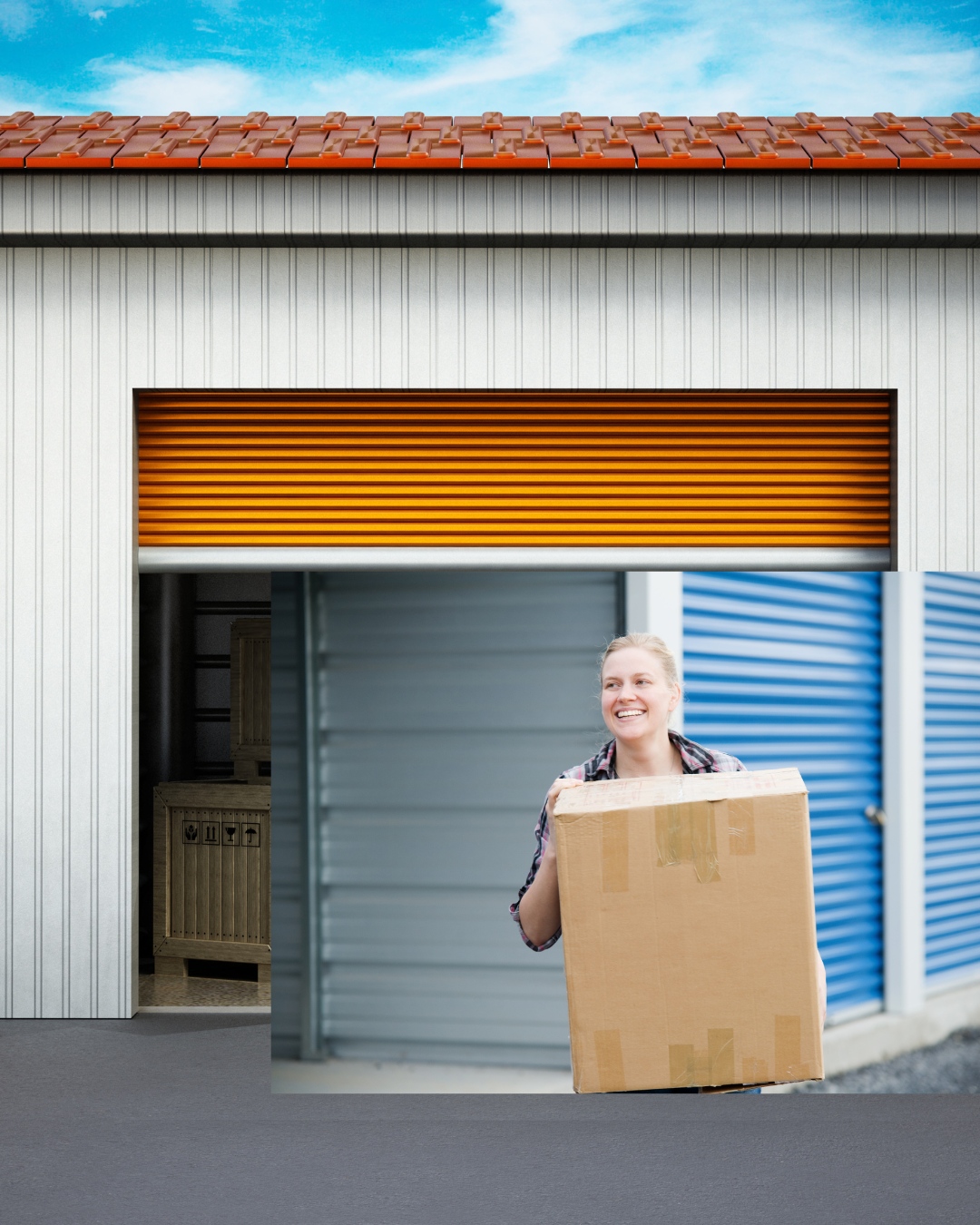 Auto-pay Enrollment Peaks
This particular metric was most surprising to our team. Despite unemployment levels and forced business shutdown levels we saw a huge increase in auto-pay sign-ups. Whether tenants are capitalizing on their extra time to enroll or are adding more things to storage, this sign could be a positive indicator in our favor.